$8.5 Million Defective Airbag Verdict
Beasley Allen lawyers Evan Allen, Kendall Dunson, and Mike Andrews along with Greene & Phillips, LLC lawyer Britt Bethea secured a $8,500,000.00 product liability verdict on Thursday from a Mobile County, Alabama Circuit Court jury.  The jury found that the Nissan Motor Co. designed and implemented a defective front passenger airbag system causing total blindness in one eye and serious and severe injuries to the other eye.
"It is so very sad that a product which is intended to keep a person safe caused such an unnecessary terrible harm," said Beasley Allen's products liability lawyer Kendall Dunson.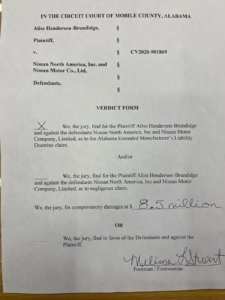 According to David Greene, founding partner of Greene & Phillips, "This verdict is all about holding automotive manufacturers responsible for profiting from unreasonably dangerous products.  Unfortunately, our client had no way to know the airbag in the vehicle was defective; only Nissan knew that.  We are thankful that the citizens of Mobile County, Alabama sent a clear message that they will not stand for automotive manufacturers designing dangerous products."
On Oct. 5, 2018, Ms. Alise Henderson-Brundidge was the front seat passenger of Infiniti QX4 which was traveling at 14 mph when it was struck on the front corner by a vehicle traveling 7.2 mph.  Before this QX4 was manufactured, the National Highway Traffic Safety Administration (NHTSA) informed Nissan that the passenger airbag was overpowered which could lead to serious injuries and death, and required that Nissan reduce the bag inflator power immediately.  Rather than implement the required changes, Nissan Motor Co. continued to manufacture and install the defective airbag system. In addition to the airbag being overpowered, the system design was faulty because the airbag deployed too late, causing the airbag to rapidly inflate after Ms. Henderson-Brundidge had already made contact with the bag.  The overpowered and late deploying airbag struck Ms. Henderson-Brundidge in her face and eyes.  As a result of the blunt force trauma, Ms. Henderson-Brundidge lost her left eye and suffered severe injuries to her right eye.
The case was filed in the Circuit Court of Mobile County, Alabama, case number CV-2020-901869.
About Greene & Phillips
Greene & Phillips has represented clients with personal injury and wrongful death cases in the Southeast since 1998.  Greene & Phillips has offices in Mobile and Birmingham.  For more information about the firm and other noteworthy cases we've handled, visit our website.  As always, call or come by anytime; you never need an appointment.
About Beasley Allen Law Firm
Founded in 1979, Beasley Allen Law Firm is a leader in complex plaintiff litigation nationwide. They work with attorneys and clients nationwide and have offices located in Atlanta, Georgia, Dallas, Texas, Mobile, Alabama and Montgomery, Alabama. Their award-winning attorneys live by the creed of "helping those who need it most."