How can we make sure all young drivers stay safe on the roads?  David Greene recently joined Joe Emer on Studio 10 to discuss teen driving safety. David is currently navigating this terrain with his own children, and his experience may be able to help other parents who want their teens to drive safely.
The Risks for Teen Drivers
It can be perilous for teenagers to navigate the roads. It can be extremely dangerous. To mitigate this, it's important to have candid discussions with your teenagers. In the Greene household, these conversations are an ongoing practice, particularly with his youngest son, Alex, who will be getting behind the wheel soon.
Driving safety begins with understanding the rules of the road and being aware of one's surroundings. Distracted driving is a major societal problem that teens and young adults are especially susceptible to.
Safety Initiatives for Parents
One interesting approach adopted by David and his friend, Ashley Rich, a former district attorney was to create a safety contract that their children were required to sign, listing out things they should do and avoid while on the road. This contract, customized for each family, ensures that teenagers understand and commit to road rules as well as family-specific guidelines for driving.
These rules can be revisited and revised frequently to ensure they stay relevant and top-of-mind for young drivers.
Teen Driver Safety Contract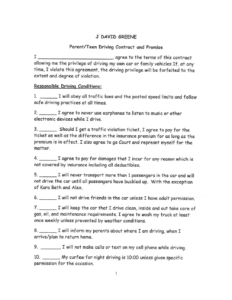 Teen Driving Contract.pdf
Alabama 2023 Hands-Free Law
A great new traffic rule is the recently passed hands-free cell phone law in Alabama. The law simply states you can't be holding your cell phone anymore while you're driving. While enforcement of the law will be a bit delayed, parents can already enforce consequences if their child uses their phone to text, find music, or check social media. People thinking of using their phones should consider using the buddy system where a passenger handles the texting, song-finding, and navigation while the driver focusses on the road.  Otherwise, find a safe place to pull over to the side of the road to use the phone.
Addressing Drunk Driving
There is absolutely no reason for teenagers to consume alcohol, and driving intoxicated should carry significant consequences.  It's important to convey this message firmly to teenagers, as the consequences of drinking and driving can be disastrous and even fatal.
Seeking Legal Advice
In the unfortunate event of accidents, Greene & Phillips Injury Lawyers are always ready to help. Getting help is very simple.
Contact us at 251-300-2000 or visit their offices and we'll let you know if we think you may have a case.
Come in for a short 30 minute meeting where we can answer any questions you may have about the process.
You focus on getting better and we'll deal with all the paperwork and negotiate with the insurance company for you.  At Greene & Phillips it won't cost a penny unless we get money for you. But it cost a lot if you don't talk to someone.
Read the full article on Fox10TV.com