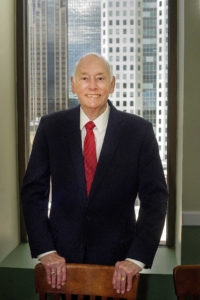 From serving as a law clerk to a U. S. Federal District Court Judge and from having practiced law for over 50 years, George McMillan has gained an understanding of the complexities and intricacies of our legal system. But perhaps more importantly, his effectiveness as a mediator stems from his personal background.
The years George served in the State House of Representatives, the State Senate and the four years he served as Lt. Governor required a substantive and distinctive understanding of human nature in order to dispel tension and reach consensuses between opposing parties. He has, in fact, devoted the bulk of his professional career honing the skills of conflict resolution.
In the years since he served in public office, most of the professional and civic endeavors to which he has been committed further sharpened his ability to bring individuals or entities together to develop accommodations acceptable to divergent points of view.
One of George's greatest strengths is the ability to effectuate workable solutions in conflict situations. George is effective in mediating because he has the ability to build rapport within the mediation room, and he is skilled at the art of effective human interaction.
George has had a general legal practice with neither a plaintiff nor defense emphasis. What this does is give him the ability to approach any case in a neutral manner in which you can have complete confidence.
About George McMillan Jr.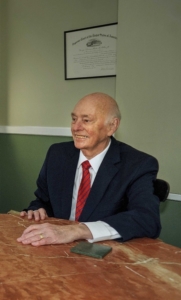 George is a 1966 Magna Cum Laude graduate of Auburn University and a 1969 graduate of the University of Virginia Law School.
For 16 years, George was a partner in the Birmingham law firm of McMillan & Spratling which he founded. During that time, McMillan served one term as a State Representative, one term as a State Senator, and from 1979-1983, he was Alabama's Lieutenant Governor.
George served as Chairperson of Alabama's delegation to the 1980 Democratic Convention. He has served as Vice Chairman of the Southern Growth Policies Board and, for seven years, was Chairman of Alabama's Film Commission. George served as one of five co-founders of the Black Belt Community Foundation (BBCF) in 2002. He further contributed his leadership on the BBCF's Board of Directors for 10 years and was the BBCF Chair for 3 years. George presently serves as a BBCF Board Member Emeritus.
In 1989, George was a founder of the Birmingham Cultural and Heritage Foundation and subsequently served as its President and Executive Producer for twenty-one years. This Foundation, under McMillan's leadership, produced "City Stages", a multi block nationally recognized downtown music festival  that served as a catalyst for the rejuvenation of Birmingham's city center.
Since merging McMillan & Spratling with Haskell Slaughter in 1986, George has been a solo practitioner and has served as President of McMillan Associates since 1990. In recent years, George has focused his practice primarily on mediation. He has found that he is most adept in helping opposing parties reach mutually-agreeable accommodations.
Most recently, McMillan has become Of Counsel to the Mobile-based law firm of Greene & Phillips. The firm has an office in Birmingham.
George has been married to his wife Ann Louise Dial since 1971, and has two children (George D.H. McMillan III, Ann Dial Sims) and two grandchildren (Louise and Evelyn Sims).
BAR & COURT ADMISSIONS
Alabama State Bar (50 plus years)
U.S. District Court for the Northern District of Alabama, 1969
Supreme Court of the United States of America, 1976
MEMBERSHIPS
Birmingham Bar Association
CERTIFICATIONS
Alabama State Court Mediator Roster
ADR Panel of Neutrals for the Northern District of Alabama.