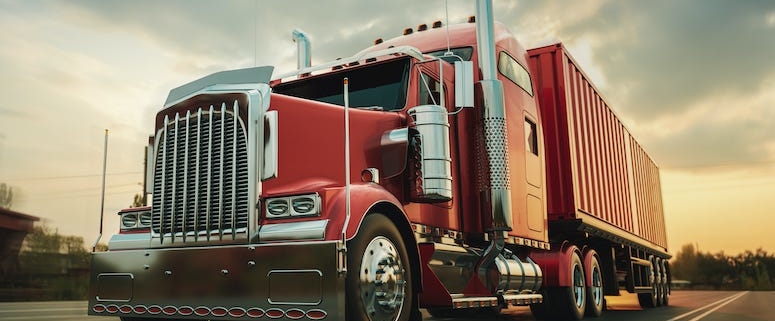 Infrastructure Bill Allows Trucking Companies to Hire Underage Drivers
Trucking companies all across the country will soon be free to hire underage drives, thanks a provision included in the $1.5 trillion infrastructure bill recently signed into law by President Joe Biden. The provision will help the industry manage the shortage of truck drivers that has hindered the nation's supply chain in recent months.  But critics are apprehensive about putting underage drivers behind the wheel of 18-wheelers and other large commercial vehicles.
The trucker shortage has only worsened throughout the Covid pandemic. It is a very demanding job with irregular and long hours, often away from home for weeks or even months at a time. As the pandemic began, many truckers resigned or took early retirement in order to combat a stressful work environment. The industry's "great resignation" has only worsened the pandemic-related supply chain issues that have left store shelves bare, led to rising prices, and extended delivery times for many goods.
Federal regulations had required truck drivers to be at least 21 years of age before they could drive a large commercial vehicle across state lines, while those aged 18 to 20 could only drive routes within their state. But the trucking industry has long sought to hire "underage" truckers, stating that the ability to bring on drivers as young as 18 would ease the personnel shortage. The industry finally sought some relief when the infrastructure bill was signed in November 2021.
The new law requires that the U.S. Department of Transportation establish an apprenticeship program for underage drivers by January 14, 2022. It's estimated that this new program could certify up to 25,000 underage drivers as long-haul truckers per year until it ends in 2024. Apprentice truckers will be required to drive 240 hours under the supervision of older drivers, and they may only operate vehicles equipped with safety features like automatic brake systems, and a 65 mile per hour speed governor. But once they've put in their 240 supervised hours, they will be free to drive across any state in the country.
The Owner-Operator Independent Drivers Association (OOIDA) claims that underage truck drivers brings about an increased crash risk – a concern backed by available research. An earlier commercial driver safety study found that crash risk increases with younger drivers, then falls as they get older, and begins to rise again once they reach age 65. In 2019, the Congressional Research Service studied proposals for lowering the minimum truck driving age to 18, and ultimately concluded that "young commercial drivers, like young drivers overall, are much more likely to be involved in crashes than their older counterparts." While the trucking industry insists underage drivers are key to solving its long-standing personnel problems, could the issue be more related to retention versus recruitment? Trucking suffers from a staggering 100% turnover rate, with data suggesting that 1/3 of all new drivers quit after just three months on the job. Nonetheless, with studies having already been done concerning the safety issues of underage drivers, is it truly worth the risk? When it comes with catastrophic injuries and a potential loss of life, the answer is no.
Our team of experienced personal injury and wrongful death attorneys have successfully litigated many cases against trucking companies. Don't let an insurance company force you into a small settlement. Our attorneys are available 24/7, and you never need an appointment at Greene & Phillips. Stop by when it's convenient for you, or call us at 877-478-1115.